Clarinet Tone - A New Warm Up To Improve Yours
Sent Thursday, June 18, 2015
CLARINET MENTORS
For clarinetists who want to perform more easily and beautifully
---
In This Issue
A Note From Michelle Anderson - My new clarinet
Free Training - Clarinet Tone - How about a summer tone-up for your clarinet?
My Clarinet VIP Opportunity - Join my Early Bird VIP list for some exciting new clarinet training, coming soon...
Michelle Recommends - Smart Music - software that allows you to practise music at whatever tempo you need, and evaluates what went well
Clarinet Is Easy - Complete how-to lessons for beginners and self-taught intermediate players
---
A Note from Michelle Anderson
Hello Everyone,
Welcome to the Clarinet Mentors newsletter. I enjoy sharing my best clarinet pointers with clarinetists all over the world, and I appreciate that you are part of the Clarinet Mentors Community!
I have had quite a whirlwind of activity since my last newsletter. I am very excited about my new Backun Bb clarinet. It has been awhile since I upgraded my equipment, and I am really enjoying and appreciating this lovely instrument. Some things just work more easily for me, and it makes some beautiful sounds. (I'm still waiting for the "auto-play" button, but I don't think mine came with that option.) You will hear some samples of this clarinet in my upcoming newsletters (and today's).
One of my biggest performances of the year was last Saturday. I performed the Ticheli Concerto for Clarinet and Wind Ensemble with the Pacific Symphonic Wind Ensemble. This is a fine group that I have played with for over 20 years. It is a huge part of my musical community, and it is an honour to perform this challenging solo piece with the band. We will be playing this at the World Association of Symphonic Bands and Ensembles conference in San Jose, CA on July Thursday, July 16th at 1:30 pm. If you live in the area, I'd love to see you there. The performance is at the California Theater.
I hope you are all enjoying your clarinet, and take note of today's long, but very useful training video to help you improve your clarinet tone.
​Thanks so much for being part of my Clarinet Community. I hope that you enjoy your clarinet this week!
Michelle
---
Free Training
Improve Your Clarinet Tone - A very useful warm-up exercise, and a discussion of gear and tone
Many of us chose to play the clarinet because we like how it sounds. It can sound melodious and sublime, and unfortunately, and times, not so nice... Most people want to improve their tone quality, and I would like to help you sound better in your clarinet pursuits.
As I have been creating my new course, I have been working on several exercises to improve tone. One of the most effective ones with my students I am including in today's newsletter. Although this is an abbreviated version, if you were to try this warm-up for the next 2 weeks, I think you will notice a clear improvement in your quality of sound. It really helps to get your air moving, regardless of what style of music you prefer to play.
Most of this video focuses on this warmup, however I do discuss the role of equipment and embouchure/posture. You will find links to other relevant videos in the description of this YouTube video. Please enjoy this training, try it out, and let me know how it works for you.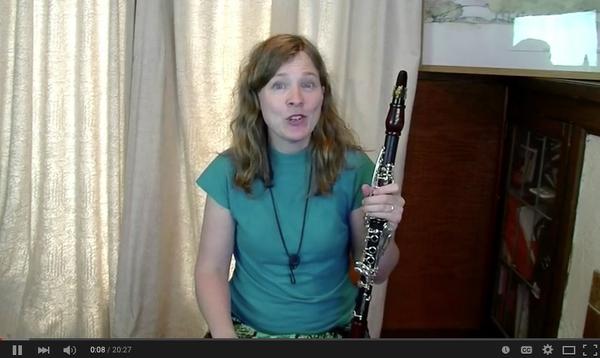 You can click on the picture above, or use this link - Free Training Video: [ https://youtu.be/JSUWle1lOwY ]
---
Clarinet List VIP Opportunity
I am very exciting to be finally nearing the end of a two year project to create a clarinet course for you that uses ALL of my favourite clarinet pointers and combines them with a very organized set of lesson plans to help you master them.
This course will be designed for players with an intermediate level of clarinet skills. (If you are newer to the instrument, or basically self-taught, the Clarinet Is Easy course, below, is a great starting point to prepare you for this upcoming course.)
There are still lots of video edits to do, and worksheets to finalize, and the huge task of loading it all up to a website where you can access all of the great lessons. I am not announcing the exact release date yet, but I am hoping for the next month or two. It is currently about 80% recorded, and the rest should be recorded in the next 2 weeks if all goes well.
When this is complete, I will be ready to celebrate! I want to invite you to the celebrations. I will be hosting a series of special events, including some live online trainings that will allow members of the Clarinet Mentors community to have some live mini lessons, and ask me your clarinet questions. I'll also be sharing some great sample lessons from the course with you. If you are interested in taking part in any of these events, the best way to get the advance notice is to sign up for my VIP Clarinet List. It only takes a minute, and then I will know that you are interested in some great new training (and during my celebration week, it is all at no charge to you) to help you play clarinet more easily. I have a quick (less than one minute) video with directions on how you can sign up. VIP Clarinet members will receive special discounts and exclusive offers, so please sign up now by clicking here!
---
Michelle Recommends
SmartMusic - Useful Music Software
SmartMusic is a software program that allows you to play a piece of music with accompaniment at any speed that you wish. This is really handy if you have a tricky piece of music and want to rehearse it more slowly. The software can also record you, and the screen will indicate how what you played compares to the written music. Correct notes will show in green, and wrong notes, or rhythms will appear in red. This makes it very easy to see where you may be getting off track.
This software is primarily designed for school teachers to use with a school band program. However, there is a lot of solo repertoire in the SmartMusic library, which makes it very handy for anyone to use on their own. If you do play in a community band, there is a huge list of band parts in the library as well. You could practise your parts at a slow tempo, but still hear what the other instruments play. This is really handy.
You can browse the library for free to see if there is enough music there to appeal to you. SmartMusic works on any home computer or iPad. The annual subscription rate for an individual is $40. Note that some of the accompaniments assume that you already have the music, and some of the music is provided on screen. There is enough music provided to easily make the subscription worthwhile. I recommend it for those of you who are looking for more repertoire, and like hearing what you play at a slower speed.
---
Clarinet Is Easy - Your Step-by-Step Beginner Course - Now Available! (Also enjoyed by many intermediate level players)
How To Solve Your Common Clarinet Frustrations and Play Clarinet More Easily
I firmly believe that if anyone has the "recipe" for how to play clarinet, things are really relatively easy to do. Most of our frustrations come from inadvertently learning bad habits along the way. With that in mind, I have created for you a 10-lesson comprehensive course for beginners (and self-taught intermediate players) that gives you the tools to truly learn the clarinet easily, while avoiding all of the most common frustrations that can plague us. I believe that these lessons can save you hours of grief by giving you the best practise systems that have worked for thousands of clarinetists. The lessons have great content, and are presented in a video format so that you can watch them again and again. If you would like to play with more ease and have a clear understanding of the fundamentals of clarinet playing, you can get more information on the Clarinet Is Easy course here (including some free preview videos):
Click here for the free preview videos to Clarinet Is Easy
Click here to order Clarinet Is Easy
If you are curious about this, you can try these lessons with a 100% 30-Day Money-Back Guarantee. (That means that you can try a full 5 lessons before you decide if you have received great value from the course.) If it is not the right style for you, you get your tuition refunded, no problem. I invite you to try it now! Many students have received amazing results so far from this course (and you can read their comments on the order page).
---
About Michelle Anderson
Michelle Anderson, the founder of Clarinet Mentors, is a professional clarinetist and teacher who currently lives in Vancouver BC. Her professional career spans over 30 years and she currently plays regularly with the Vancouver Opera Orchestra, the Pacific Symphonic Wind Ensemble and the West Coast Chamber Music series. She has performed with the Vancouver Symphony Orchestra, the CBC Vancouver Orchestra, the Winnipeg Symphony Orchestra, the Royal Winnipeg Ballet Touring Orchestra and many other groups. Michelle currently specializes in teaching adults to play clarinet more easily and quickly through online resources, and conducts the Vancouver Clarinet Choir. Michelle is a Backun Musical Services Artist and plays on Backun clarinets and mouthpieces.
Thanks for reading this biweekly newsletter. If you think a friend would enjoy this, please feel free to forward it.
---
Helping you to find success on your instrument with proven, easy-to-follow systems that are designed to help you sound good, and feel better about your playing.
---
Stay connected with news and updates!
Join our mailing list to receive the latest news and updates from our team.
Don't worry, your information will not be shared.
Subscribe