Is Your Clarinet Out of Adjustment and Causing Squeaks (or making it harder to play)?
Sent Saturday, October 11, 2014
CLARINET MENTORS
For clarinetists who want to perform more easily and beautifully
---
In This Issue
A Note From Michelle Anderson - Happy Canadian Thanksgiving! (& Concert Season is Here )
Free Training - Is Your Clarinet Out Of Adjustment- You should check out this video to help you check your clarinet
Join Me in an Online Masterclass To Discover Your Next Clarinet Breakthrough - A time-limited offer for 12 Clarinet Mentors members
Michelle Recommends - American Tribute - The latest CD from Jonathan Cohler and Rasa Vitkauskaite is definitely worth listening to.
Clarinet Is Easy - Complete how-to lessons for beginners and self-taught intermediate players
---
A Note from Michelle Anderson
Hello Everyone,
Welcome to the Clarinet Mentors newsletter. I hope that new members, and long-time members enjoy the clarinet news that I share here with all of you!
I just finished a run of Carmen with the Vancouver Opera Orchestra, and one of my favourite conductors, Maestro Jacques Lacombe. Here is our view from the pit (although I confess that I am standing on the conductor's podium to take this photo instead of under the stage in the clarinet chair). For those of you who wonder what we do down there, it is actually quite fun. Although we can't see the action on stage, we get to hear amazing singers, who often surprise us by singing things a little bit differently each night. It is a great exercise in listening well, and being in sync with several musicians at once. A great challenge, and very satisfying when it all comes together...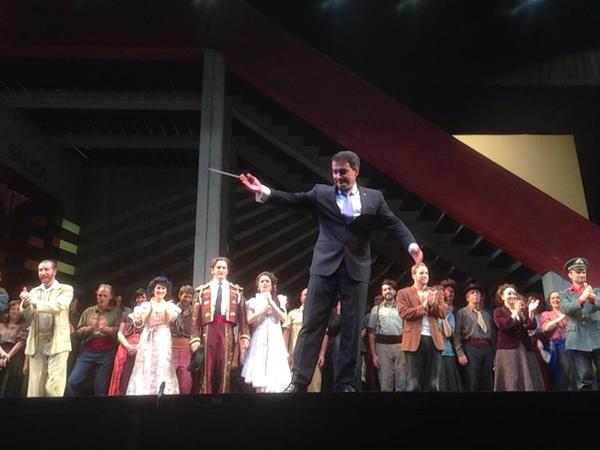 I am looking forward to many concerts in the next 2 months - a Mozart Requiem, a concert with Lionsgate Sinfonia featuring the Dvorak Cello Concerto (one of my favorites), some Christmas concerts, and a run of the Nutcracker coming up in December. It gives me a chance to play my new Selmer bass clarinet in that famous Sugar Plum Fairy bass clarinet moment. I've been having fun exploring the "darker side" of clarinet by playing more of bass clarinet these days.
Many people have sent kind words to me about my father being in the hospital. I appreciate hearing from you and thank you all for the thoughts. He is doing very well and will hopefully be released in a couple of weeks. I am pleased at his progress, and grateful that it is going well!
Happy Thanksgiving weekend to all of my Canadian friends! We're hosting a huge feast to many of our friends who don't have family nearby, and it is always one of the funnest days of the year. I am thankful for many things, and I hope that you also have gratitude for the blessings in your life.
Thanks so much for being part of my Clarinet Community. I hope that you enjoy your clarinet this week!
Michelle
---
Free Training
Is Your Clarinet Out Of Adjustment? (likely...)
I believe that it is always useful to understand the mechanisms of our clarinets. If there is something a little bit out of adjustment, it will make the instrument more difficult to play. Recently, I have had a few students coming to lessons who have trouble playing certain high notes that involve the right hand. If a key, or a finger, is not completely covering the tone hole, a note will feel more resistant, or squeak, or will be difficult to play. Of course, the first place to check is our own fingers, since unfortunately, we create most of our problems ourselves! Having said that, it is very common for the bridge key to be out of alignment on a clarinet. This can definitely cause some notes to either sound airy and fuzzy, or just squeak, or to feel hard to blow.
| | | |
| --- | --- | --- |
| In today's training video, I show you how you can check your own instrument to find out if it might be giving you trouble. I show you how you may be able to readjust it yourself, or at the very least, know what to request from your clarinet repair person. I think this little bit of knowledge is handy for all of us! | | |
Free Training Video: [ https://youtu.be/2PXOvD_ivq4 ]
As always, I look forward to hearing from you. I hope you enjoy today's video, and if you have any comments, please feel free to write them in the comments box below the YouTube video.
---
Are You Ready To Take Action To Improve Your Clarinet Playing Now?
One of my favourite things to do is support people to feel better about their clarinet playing by giving them systems and tools that make it easier to do. One of the best ways to do that is through one-on-one sessions where I can see and hear someone, and offer custom feedback. I invite 12 of you to join me in a very special session designed to help you play better in the next 2 months.
I am opening up two masterclass groups to join me for small group lessons that involve one-on-one time with each participant in a setting of 6 clarinetists in a 5-session 60 to 90 minute weekly masterclass. I will coach each of you with my best pointers in your area of focus (the area that you most want to improve) and you will also benefit from learning the systems that work for others with similar challenges to you. Some of my own best learning came from masterclasses where I watched my teacher help others solve problems that I knew I had in my own playing. I was relieved not to be the one "making mistakes" in front of my teacher, and I still discovered how to fix things that challenged me!
If you have the technology for Skype, or similar services, you can join us. You just need a webcam and mic (which may be built in to your computer, or tablet, or phone). I will take the first 12 people who register at:
SIGN ME UP FOR A CLARINET BREAKTHROUGH
I hope that you can join us so that I get to meet you face to face!
---
Michelle Recommends
American Tribute - new CD by Jonathan Cohler, clarinet
I have just been listening to the new CD by Jonathan Cohler and the fabulous pianist Rasa Vitkauskaite, and I recommend it to you. The music is fairly modern with some definite klezmer and jazz influences, and displays the versatility of these two performers. I saw them perform at the ClarinetFest this summer, and was impressed by the fluidity of Jonathan's playing. In this CD, I particularly like the selections by Paquito D'Rivera which are arrangements of tunes that he has used for woodwind quintet (one of my favourite quintet arrangements, by the way) and many other chamber music settings.
This is well recorded, and well played. You can access sound samples at:
http://www.cdbaby.com/cd/jonathancohler3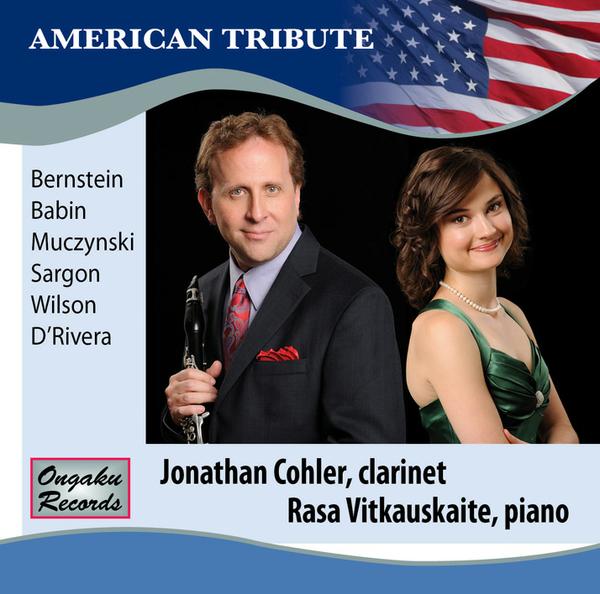 ---
Clarinet Is Easy - Your Step-by-Step Beginner Course - Now Available! (Also enjoyed by many intermediate level players)
How To Solve Your Common Clarinet Frustrations and Play Clarinet More Easily
I firmly believe that if anyone has the "recipe" for how to play clarinet, things are really relatively easy to do. Most of our frustrations come from inadvertently learning bad habits along the way. With that in mind, I have created for you a 10-lesson comprehensive course for beginners (and self-taught intermediate players) that gives you the tools to truly learn the clarinet easily, while avoiding all of the most common frustrations that can plague us. I believe that these lessons can save you hours of grief by giving you the best practise systems that have worked for thousands of clarinetists. The lessons have great content, and are presented in a video format so that you can watch them again and again. If you would like to play with more ease and have a clear understanding of the fundamentals of clarinet playing, you can get more information on the Clarinet Is Easy course here (including some free preview videos):
Click here for the free preview videos to Clarinet Is Easy
Click here to order Clarinet Is Easy
If you are curious about this, you can try these lessons with a 100% 30-Day Money-Back Guarantee. (That means that you can try a full 5 lessons before you decide if you have received great value from the course.) If it is not the right style for you, you get your tuition refunded, no problem. I invite you to try it now! Many students have received amazing results so far from this course (and you can read their comments on the order page).
---
About Michelle Anderson
Michelle Anderson, the founder of Clarinet Mentors, is a professional clarinetist and teacher who currently lives in Vancouver BC. Her professional career spans 30 years and she currently plays regularly with the Vancouver Opera Orchestra, the Pacific Symphonic Wind Ensemble and the West Coast Chamber Music series. She has performed with the Vancouver Symphony Orchestra, the CBC Vancouver Orchestra, the Winnipeg Symphony Orchestra, the Royal Winnipeg Ballet Touring Orchestra and many other groups. Michelle currently specializes in teaching adults to play clarinet more easily and quickly through online resources, and conducts the Vancouver Clarinet Choir.
Thanks for reading this biweekly newsletter. If you think a friend would enjoy this, please feel free to forward it.
---
Helping you to find success on your instrument with proven, easy-to-follow systems that are designed to help you sound good, and feel better about your playing.
---
Stay connected with news and updates!
Join our mailing list to receive the latest news and updates from our team.
Don't worry, your information will not be shared.
Subscribe