0:32 How do I work on reeds? (sanding, clipping etc.)

3:15 My (throat tone) A is always sharp. How can I fix this? (clarinet intonation discussion)

6:54 Can you recommend a good clarinet fingering chart with alternate fingerings?

7:32 Is there a trick to preventing my right hand from going numb while I play clarinet?

12:45 How do I tighten the top and bottom screws of my clarinet ligature?

14:01 Can I keep my right hand fingers down on throat tone A and Bb when I cross the break up to B and C?

16:28 How do I create a warmer, more resonate tone in all registers of my clarinet?

20:50 How can I have faster tonguing, do double-tonguing and flutter tonguing?

24:21 "Reeds are driving me nuts! A Vandoren 3 gives me good high notes, but is fuzzy in lower notes. A Vandoren 2.5 sounds better down low, but does not work in the highest register. What can I do?"

28:27 "I've seen your video before about the Bb fingerings. How do I choose the best fingering for my clarinet?"
---
Michelle Recommends - ​​​​​​​BG Reed Saver
This is an interesting clarinet device that is worth trying out. They are basically stickers that you place on older clarinet reeds to revive them a bit. I was very skeptical that they would do anything, but they do in fact seem to add a bit of resonance to a reed that is starting to lose it. I have colleagues who like them as well. They don't make a huge difference, but they can help to revive an aging reed, and they are an inexpensive experiment to try out. I"m curious to know if it works for you!
---
Clarinet Mentors Live Event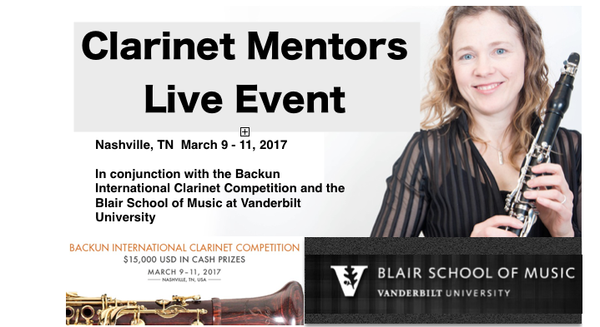 I am very excited to announce that the very first live, in-person Clarinet Mentors event is happening in conjunction with the Backun International Clarinet Competition March 9 -11, 2017. We have been invited to host a special Clarinet Mentors event designed for you, the enthusiastic amateur clarinetist, AND we get access to all of the amazing events at the Backun International Clarinet Competition. It is like a 2-for-1 clarinet extravaganza!
When I reflect upon where I have learned the most in my life, it has usually been at intense live events like this. The summer musical programs for me (such as the Aspen Music Festival) which combined lessons, concerts and masterclasses probably accounted for about 80% of my "clarinet breakthroughs". All the months in between, where I had the odd lesson and worked on my own, made up the rest. These live events can really fast-track our progress. I want you to experience this power and have a clarinet breakthrough for yourself.
To discover more about this event,
(registration closed)
.
This event includes at least four live Clarinet Mentors masterclasses, where participants get mini lessons with Michelle. There will be special clarinet ensembles led by Michelle, chances to try out incredible clarinet gear, and access to view a competition with some of the clarinet world's rising stars. There will also be some "fireside chats" with some of the world's greatest clarinet players.
The recitals are amazing and include world-class players such as David Shifrin, Ricardo Morales, Corrado Giufreddi, Bil Jackson and more. The concerts alone make this event worth attending!
---
Thanks for being a part of my clarinet community!