Jul 2017 - What Clarinet Gear Should You Upgrade Next?
In This Issue
A Note From Michelle Anderson - Hello from Orlando
Free Training - What should I upgrade on my clarinet? - Michelle discusses some clarinet gear, and what order she would buy things if she were upgrading from a beginner package
Further Clarinet Training - Michelle's step-by-step clarinet courses all designed to help you learn much faster and play more easily - sample videos for you now
---
Hello From Michelle Anderson
Welcome to the Clarinet Mentors newsletter, and I thank you for being a part of this wonderful, worldwide, community of enthusiastic clarinetists. It is very exciting to be part of a group of thousands of clarinetist from around the world, who all enjoy making music.
I am writing to you from ClarinetFest 2017 in Orlando, Day 1. I really enjoyed being a part of the first ever Amateur Adult Masterclass at ClarinetFest. Five brave members of the Clarinet Mentors community played for me (right after Eddie Daniels performed). It was a fun session. Here's a photo of us (Diane, Barbaraann, Katherine, myself, Susan and Howard) from this afternoon: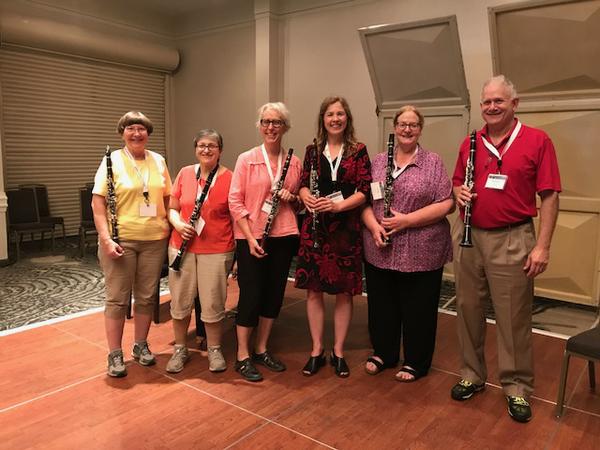 ---
Be sure to check out the
Clarinet Mentors Facebook page
for updates and information from ClarinetFest. Tonight I get to hear Julian Bliss and Richard Stolzman as well as some other superb clarinetists. Next week I'm off to a family holiday involving lakes and tents, and then off to play La Boheme in a summer festival.
Thanks for being part of this community, and I look forward to the chance to meet you either in person, or live "via computer" at one of our Clarinet Mentors Live Trainings sometime soon.
Michelle
---
Free Training: What Clarinet Gear Should I Get Next?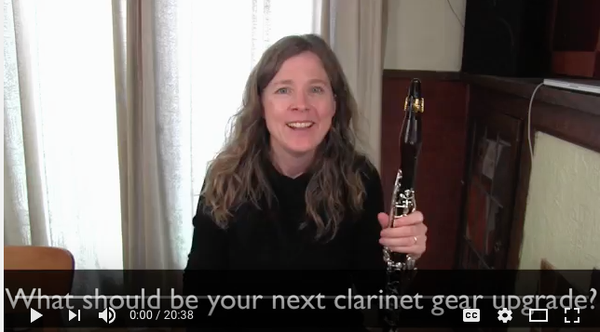 Are you interested in some new clarinet gear?
Do you wonder which reed, mouthpiece, ligature, barrel, bell or clarinet to try?
Are you overwhelmed about where to even start?
In this Clarinet Mentors Free Training video, Michelle gives her recommendations for where to start, what order to upgrade gear in, and some guidance on what to look for when you upgrade your gear.
There are many good products out there, and this video covers some of them. I invite you to join the conversation in the comments under this video to add your own recommendation.
___________________
Thanks for being a part of my clarinet community!
Stay connected with news and updates!
Join our mailing list to receive the latest news and updates from our team.
Don't worry, your information will not be shared.
Subscribe