A Note From Michelle Anderson - Highlights from our incredible Live Event
Free Training - Clarinet Questions Answered by 2 Experts - You asked, we answered - Sean Perrin and I continue answering your questions in a new video
Michelle Recommends - Live Concert Recordings - Be inspired by the amazing clarinet artistry in these videos
Do you want to play high notes better on clarinet? - Michelle's Mastering Clarinet High Notes course has now re-opened for registration
Further Clarinet Training - Michelle's step-by-step clarinet courses all designed to help you learn much faster and play more easily - sample videos for you now
---
Hello From Michelle Anderson
Welcome to the Clarinet Mentors newsletter, and I thank you for being a part of this wonderful, worldwide, community of enthusiastic clarinetists. Today, which happens to be my birthday, is a day when I enjoy looking back and appreciating highlights from my previous year. One of the things that I most appreciate are the marvellous friends and colleagues in my life. Many of them come from my musical communities. I love how music can draw us together.
I had a great time meeting a bunch of members of the Clarinet Mentors community in person during our live event in Nashville, March 8-11. We had an amazing group of amateur clarinetists who had travelled from 5 different countries to be part of this event. We had daily clarinet choir music, masterclasses (with some of the world's greatest players) and heard some incredible concerts. We were musically inspired, and everyone learned many new clarinet technics.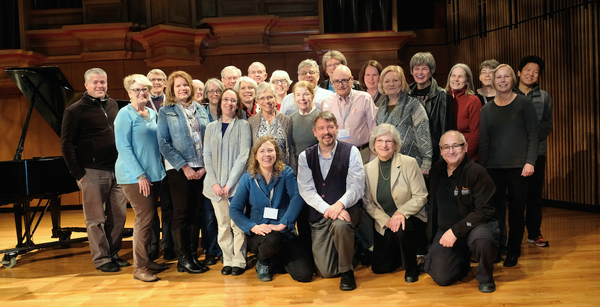 We were there as part of the Backun International Clarinet Competition. I have created a page of highlights for you to hear some of the amazing concerts. See below for details. I hope to be part of another event like this in the future. Our group learned so much, and we had a great time all together.
Thanks for being part of this community, and I look forward to the chance to meet you either in person, or live "via computer" sometime soon.
Michelle
---
Free Training: You Asked! We Answered!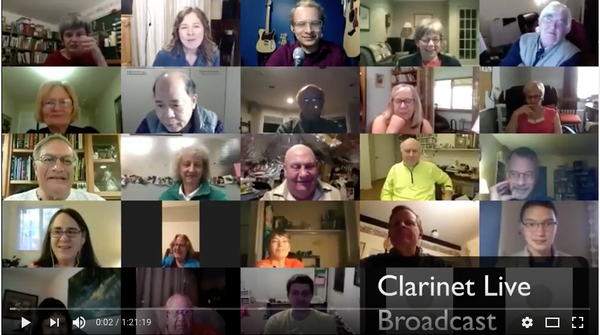 In February, I co-hosted a
Live Clarinet Broadcast
with Sean Perrin of the
Clarineat Podcast and
about 70 members of the
Clarinet Mentors Community.
Last newsletter, I gave you a video of this where Sean and I managed to answer over 30 questions including discussions about clarinet tone, high notes, faster finger technic, reeds, ligatures, and Harry's cats. (If you missed it, you can watch it here:
https://youtu.be/7q1RbaODnyQ
We had so many great questions that we did not get to on the live broadcast. Sean graciously offered to join me again, and we recorded our responses to the rest of the questions. I know that these questions are of value to many clarinetists. We had a great time, and you'll hear us offering some really interesting advice on how to prepare as a clarinetist for practising, playing, and performing (and the difference between those things). We also have a long discussion on how to play more expressively and musically. I think you will enjoy the back and forth rapport between us, and you can laugh at me as I totally screw up my description of the physics of sound. (Luckily Sean set me straight.)
Here is the list of questions that we answered for you, and a time code in case you want to jump right to the question that most interests you!
2:52 Are there any ways to improve speed of reading music and transferring the notes to the clarinet?I have difficulty keeping up with accompaniments in the lessons.For example should I concentrate on scales and arpeggios?
This includes a great discussion of how people can practise better.
11:17 How do you prevent your teeth cutting into your bottom lip, especially for long practice sessions?
14:23 I started clarinet about six weeks ago. I am hearing a fuzzy/vibrating sound in the lower register.Probably embouchure? Any suggestions?
This includes a discussion about how to know if your clarinet is in good working condition, and the proper shape for fingers on the clarinet. How do you use your air when you are new to clarinet?
17:49 "Michelle - I love the beautiful mellow sound of your clarinet.What type of clarinet is it? "
This includes discussion on how to choose a good barrel for your clarinet.
19:50 I have a clarinet pitched to 442 what length of barrel do I need to bring it down to 440?
This includes an interesting discussion on barrel length, tuning, mouthpieces, and may include Michelle messing up on the physics of sound.
22:38 When I tongue, my tongue moves so much that I can see movement in my neck. I have difficulty keeping a high tongue position and minimizing movement of my tongue without compromising sound quality.
28:19 I cannot use a metronome. It is just too distracting, but I do like to play with the play-along cds, and other cds.
Great discussion about how to improve our sense of rhythm, and some tools to help (including tactile metronomes and click tracks).

37:09 How much clicking of keys is normal? Perhaps my clarinet needs an overhaul but I'd rather not pay for that unless it will help.
This leads to a discussion on how to maintain clarinet keys, and even references 75W 90 Gear oil.
44:10 How do you go about making your music more…musical? Versus metronomic, flat, etc.
Fabulous question! Leads to a great discussion on phrasing, and how to play expressively.
49:26 Have you noticed any issue with synthetic reeds tuning? When I have tried them in the past (Legere Signature, European, etc.) I have experienced a notable flatness especially around the throat tones. My teacher has noted this as well. Just wondering if this something others have experienced?
51:38 When tuning on middle B (in summer I have pulled out a little) then I found that the lower register is flat. Is it correct to tighten the embouchure to raise the pitch in the lower register.
This leads to a discussion on clarinet tuning technics.