Mozart Clarinet Duet for you
Sent Wednesday, March 25, 2015
CLARINET MENTORS
For clarinetists who want to perform more easily and beautifully
---
In This Issue
A Note From Michelle Anderson - Spring Break and Gershwin's Glissando
Free Training - Mozart Duet - Play a duet with me!
Michelle Recommends - Music for Two Clarinets - very well-arranged duets featuring a variety of well-known classical tunes
Clarinet Is Easy - Complete how-to lessons for beginners and self-taught intermediate players
---
A Note from Michelle Anderson
Hello Everyone,
Welcome to the Clarinet Mentors newsletter. I am always excited to share my clarinet ideas and tools with all of you! I hope that you enjoy today's lessons, and pull out your clarinet to play some music after you read this email.
In today's newsletter, I bring you a fun Mozart duet that you can play with me (virtually, through your computer), or with a real, live clarinet-playing friend. I hope you enjoy it.
It has been Spring Break here in Vancouver, which is a two-week holiday for local school children. Our family took advantage of the break to visit Harrison Hot Springs, a great family resort to see beautiful scenery and relax in warm water. If you are ever in Vancouver, it is a nice diversion that is only about 2 hours away.
I have some fun concerts coming up in the next two weeks, and I am also really focusing on preparing a solo piece that I will be performing in June and July. I will be playing Frank Ticheli's Concerto for Clarinet and Wind Ensemble with my favourite community band, the Pacific Symphonic Wind Ensemble, in Vancouver in June, and San Jose, CA in July. It is an interesting composition with great parts for the band. I am brushing up on my Gershwin gliss (which is referenced in this piece), and other specialized technics. I've been avoiding making the "How To Play The Rhapsody In Blue Gliss" video because I've never really been exposed to a clear, step-by-step system for mastering this. I've heard a few useful pointers, but I haven't discovered the "system" yet. If you have any great pointers, please send them my way. I'll distill all the best ones together when I do create my "how-to" video for this one.
Thanks so much for being part of my Clarinet Community. I hope that you enjoy your clarinet this week!
Michelle
---
Free Training
Play a Mozart Duet with me!
In the past, I have posted some duets to YouTube, where you can download the sheet music, and then play along with the videos. Many people have requested more like this, so today, I give you a very nice Mozart duet that is fairly easy to play. You can learn both parts, and either play along with the videos, or find a clarinet buddy and work on it together in person.
I really enjoy this music, and I hope that you have fun playing it.
You can download the sheet music here:
Watch the video by clicking on the links below: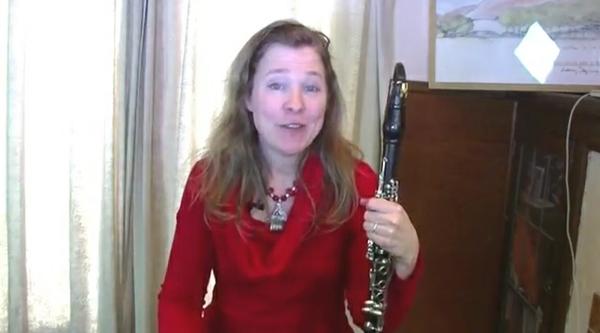 Free Training Video - 1st clarinet part: [ https://youtu.be/9Tw1K8hkDJU ]
Free Training Video - 2nd clarinet part: [ https://youtu.be/DsJPkxmOoKM ]
---
Michelle Recommends
Music For Two Clarinets
Music for Two Clarinets is a great collection of well-known classical tunes for intermediate level players. These are skillfully arranged, and are packaged in two separate volumes of duets, or a package deal with both volumes together. These can also be enjoyed as a solo book with one person simply learning the melodies. This would be great to share with a clarinet-playing friend to try duets together. One of our best ways to master our instrument is to play regularly with other musicians.
The same publisher has many other good ensemble books, including some trio sets that can be used with a variety of other instruments.
---
Vancouver Cadenza Clarinet Choir
Openings for players in this area
For many years I have been coaching the Vancouver Clarinet choir, a fun group of amateur clarinetist who do their best to make great music together. It has varied in size from 20 people to a dedicated quartet. We are looking to expand our membership again for people who would be a good fit. If you might be interested in playing with us (usually the first and third Tuesday evenings of the month), please send me a note. We are looking to invite new members in April.
---
Clarinet Is Easy - Your Step-by-Step Beginner Course - Now Available! (Also enjoyed by many intermediate level players)
How To Solve Your Common Clarinet Frustrations and Play Clarinet More Easily
I firmly believe that if anyone has the "recipe" for how to play clarinet, things are really relatively easy to do. Most of our frustrations come from inadvertently learning bad habits along the way. With that in mind, I have created for you a 10-lesson comprehensive course for beginners (and self-taught intermediate players) that gives you the tools to truly learn the clarinet easily, while avoiding all of the most common frustrations that can plague us. I believe that these lessons can save you hours of grief by giving you the best practise systems that have worked for thousands of clarinetists. The lessons have great content, and are presented in a video format so that you can watch them again and again. If you would like to play with more ease and have a clear understanding of the fundamentals of clarinet playing, you can get more information on the Clarinet Is Easy course here (including some free preview videos):
Click here for the free preview videos to Clarinet Is Easy
Click here to order Clarinet Is Easy
If you are curious about this, you can try these lessons with a 100% 30-Day Money-Back Guarantee. (That means that you can try a full 5 lessons before you decide if you have received great value from the course.) If it is not the right style for you, you get your tuition refunded, no problem. I invite you to try it now! Many students have received amazing results so far from this course (and you can read their comments on the order page).
---
About Michelle Anderson
Michelle Anderson, the founder of Clarinet Mentors, is a professional clarinetist and teacher who currently lives in Vancouver BC. Her professional career spans over 30 years and she currently plays regularly with the Vancouver Opera Orchestra, the Pacific Symphonic Wind Ensemble and the West Coast Chamber Music series. She has performed with the Vancouver Symphony Orchestra, the CBC Vancouver Orchestra, the Winnipeg Symphony Orchestra, the Royal Winnipeg Ballet Touring Orchestra and many other groups. Michelle currently specializes in teaching adults to play clarinet more easily and quickly through online resources, and conducts the Vancouver Clarinet Choir.
Thanks for reading this biweekly newsletter. If you think a friend would enjoy this, please feel free to forward it.
---
Helping you to find success on your instrument with proven, easy-to-follow systems that are designed to help you sound good, and feel better about your playing.
---
Stay connected with news and updates!
Join our mailing list to receive the latest news and updates from our team.
Don't worry, your information will not be shared.
Subscribe