New Resources for Teachers (and Students)
Sent Tuesday, October 25, 2016
CLARINET MENTORS
For clarinetists who want to perform more easily and beautifully
---
In This Issue
A Note From Michelle Anderson - Do you know the way to San Jose?
Free Training - Clarinet For Teachers -14 videos on how to teach clarinet better (and non-teachers can learn some good pointers too)
Michelle Recommends - Légère European cut Signature reeds
Better Clarinet Articulation - a new clarinet course designed to help you "go deeper" in refining your clarinet playing (free previews now available)
Upcoming Clarinet Events -​​​​​​​Clarinet Mentors Festival in March, and Clarinet Cruise in 2018
Further Clarinet Training - Michelle's step-by-step clarinet courses all designed to help you learn much faster and play more easily
---
A Note from Michelle Anderson
Hello Everyone,
I always appreciate hearing from all of you in the Clarinet Mentors Community. It is great to share clarinet ideas with people from all over the world. If you missed the Clarinet Mentors Live Online Masterclass a couple of weeks ago, you can still watch it! We had over 80 clarinetists from about 20 countries over the course of about 90 minutes. We had some great discussions, and some good mini clarinet lessons. You can find the replay here >
https://www.clarinetmastery.com/clarinet-mentors-live-masterclass-oct-8-16
I am off to San Jose, CA, tomorrow for a conference, and I'm looking forward to learning lots of new ideas. While I am away from my studio, I'll be learning more about sharing information online so that I can expand my offerings to clarinetists like yourself.
I hope you are enjoying your clarinet, wherever in the world you are! Thanks for being a part of the Clarinet Mentors community.
Michelle
---
Free Training
14 Videos Designed For People Who Teach Clarinet
I know that many of you teach clarinet. I was invited to participate in a series of educational videos for the Backun Musical Services Educator Series. These are all fairly short and concise, and each deal with common clarinet challenges. They are slightly different from my usual videos, because I focus on how you, as a teacher, can help students figure out what they are doing wrong, and how to fix it. Having said that, if you are not teaching at this time, I think they are very useful just as a learning tool for students as well. You will see that the titles make it fairly obvious which subjects are covered.
I encourage you to watch these. You can find them all by clicking on the photo below, or here: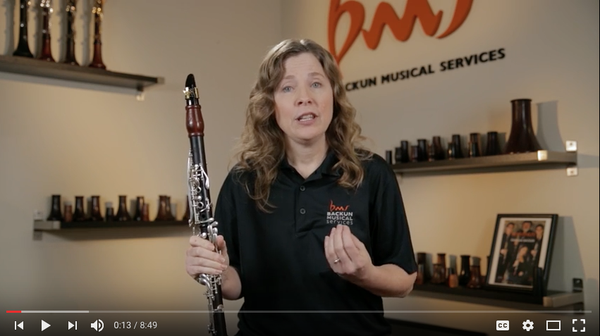 ---
Michelle Recommends
Légère European Cut Signature Reeds
I know that many of you in the Clarinet Mentors community have tried Légère synthetic reeds, and I have discussed them before in this newsletter and on videos.
I recently tried a newer model, the European Cut, that is by far my favourite Légère reed. As with most clarinet gear, they respond differently on different mouthpieces and setups. On my setup, I have in the past, found the Légère reeds rated about a 7.5 out of 10. Now this makes them better than all of the bad cane reeds that I find when I am sorting through reeds, but it had never convinced me to play them more often. Having said that, I have some students, who sound great on Légère reeds, so it definitely varies from person to person. The European cut, works much better on my setup. I'd say that I could call it about an 8.5, which works great in many settings. I love using it when I am teaching workshops, and my clarinet may sit for some time before I pick it up to demonstrate to a group. A cane reed can often dry out, or warp doing this, and the plastic reed always sounds good right away. I've used it in some rehearsals, and generally liked the sound and consistency.
For me, I still prefer the sound of my very best cane reeds (which for me is usually Steuer or Vandoren), but I really appreciate the simplicity of a reed that is always working and sounding good. I think it is worth exploring for any of you who would appreciate a reed that always plays well right out of the case. I'll leave it up to you to decide how it compares to your best-sounding cane reeds. I'm definitely using them more often, and I hope they continue to improve! I'm curious to know what you think of them...
---
Better Clarinet Articulation
Register Now For Instant Access to Three Preview Lessons from Michelle's Newest Clarinet Course
I love providing lots of tips and tools for all of you in the Clarinet Mentors community on how to play clarinet more easily and beautifully. I now offer over 90 great training videos on YouTube for clarinetists worldwide to enjoy. People often ask me why I just give all of this away. Why? I love music so much that I want to share that appreciation with others. I've seen many students almost give up because they were frustrated and thought that they just didn't have enough talent to play their own music. Nonsense, I say! If we are frustrated, it is likely that we have some bad habits and simply do not know how to fix them. My mission at Clarinet Mentors is to give people to tools to identify their bad habits, replace them with good ones, and enjoy sounding great while making good music!
For those of you that want to go deeper, and appreciate an organized system for putting this knowledge into practise, I have created some online courses. All of these have a series of free preview videos for you to check out, detailed 30-Day practise routines, and lots of fun repertoire to work on. They also all have an amazing 100%, 30-Day Full Money Back Guarantee. Signing up for a course helps fund all of the great free videos that are available to everyone.
I am excited to finally be launching a course that specifically helps you to improve on clarinet articulation. I want you to try out the preview videos and get your feedback on what you think of these videos. You can sample some of my favourite lessons at no charge by signing up here: https://www.clarinetmastery.com/pl/11321​​​​​​​
---
Upcoming Clarinet Mentors Events
I love meeting members of the Clarinet Mentors community. Usually this is online. I have a couple of special events coming up that gives me a chance to meet with you live, and really celebrate our love of the clarinet with some special concerts, lessons and events.
Please join me for a very special clarinet event that takes place in Nashville March 9-11, 2017. This event offers the Clarinet Mentors community a chance to interact with some of the greatest clarinet players in the world. It also lets me meet you in person. This event is hosted by Bil Jackson at the Vanderbilt University in Nashville and sponsored by Backun Musical Services (which means some of their incredible artists will be on the performance roster). This is a beautiful facility, and promises to be a totally inspiring event for all of us. I hope that you can come to be inspired, and to learn.
You will have access to:
Recitals and concerts with some of the world's greatest clarinetists
Masterclasses - observing some of the highest level teachers with some of the best, most talent student performers
Masterclasses for YOU, the passionate amateur adult, in a supportive, nurturing "no pressure" setting where you can learn an amazing amount
The opportunity to take some live in-person lessons with myself and other well-respected clarinet teachers
Sessions with clarinet makers and clarinet gadget folks - your chance to try in person equipment that could really help you play clarinet better
Click here for more details:
Clarinet Cruise 2018
If you might be interested in a fabulous one week Clarinet Cruise to Alaska in the late spring/early summer of 2018, please put your name on the information list here: put your name on the information list.
---
About Michelle Anderson
Michelle Anderson, the founder of Clarinet Mentors, is a professional clarinetist and teacher who currently lives in Vancouver BC. Her professional career spans over 30 years and she currently plays regularly with the Vancouver Opera Orchestra, the Pacific Symphonic Wind Ensemble and the West Coast Chamber Music series. She has performed with the Vancouver Symphony Orchestra, the CBC Vancouver Orchestra, the Winnipeg Symphony Orchestra, the Royal Winnipeg Ballet Touring Orchestra and many other groups. Michelle currently specializes in teaching adults to play clarinet more easily and quickly through online resources, and conducts the Vancouver Clarinet Choir. Michelle is a Backun Musical Services Artist and plays on Backun clarinets and mouthpieces.
Thanks for reading this biweekly newsletter.
---
Helping you to find success on your instrument with proven, easy-to-follow systems that are designed to help you sound good, and feel better about your playing.
---
Stay connected with news and updates!
Join our mailing list to receive the latest news and updates from our team.
Don't worry, your information will not be shared.
Subscribe