What do the 1% of best clarinetists do differently than you?
Sent Wednesday, August 3, 2016
CLARINET MENTORS
For clarinetists who want to perform more easily and beautifully
---
In This Issue
A Note From Michelle Anderson - Hello from ClarinetFest 2016
Free Training - Enjoy practising your clarinet more, and do it better!
Michelle Recommends - Clarinet Mentors Facebook updates of ClarinetFest 2016
How To Play Clarinet More Easily - Better Clarinet Tone and Faster Clarinet Fingers now available to you - great online courses
Clarinet Is Easy - Complete how-to lessons for beginners and self-taught intermediate players
---
A Note from Michelle Anderson
Hello Everyone,
Welcome to the Clarinet Mentors newsletter. If you have just joined the Clarinet Mentors community, welcome aboard! I hope you learn many things here that make your clarinet playing more fun and easy. I am so pleased to be part of this great worldwide community of clarinetists that includes you.
As I write this, I am on the plane to ClarinetFest 2016, in Kansas. This 5-day event features many concerts, recitals, competitions, lectures and a huge display of clarinet gadgets. Although I don't have my fancy video gear with me, I will be shooting several informal videos of what I encounter. I'll create a page on the Clarinet Mentors website by the next newsletter so you can see what I discover there. If you are on Facebook, then check the Clarinet Mentors Facebook page for updates (www.facebook.com/clarinetmentors). I haven't put much on that site, but it is a good way to share ClarinetFest information with you. I'll be there for the first 3 days of the event, and I'm going to see as much as I can while I am there.
Last week, I spent 5 days recently at the UBC Wind Conducting Symposium, playing in the band, and watching some amazing conducting coaching sessions. It is inspiring me to pursue some conducting studies in my future. After all of that, and anticipating a busy time at ClarinetFest, I look forward to visiting family for a 2 week holiday. Relaxation and crisp cool lakes are calling my name soon.
Thanks to everyone who submitted questions to my Mastering Clarinet High Notes mini course. I was pleased to answer questions from more than 100 clarinetists. We are part of a very active and engaged community of clarinetists. Congratulations to Catherine Marvell, who won her choice of any Clarinet Mentors educational course as part of my random draw from those of you who participated. If you missed out on your chance to enrol in this course, you can still see other great training opportunities at the bottom of this newsletter.
I hope you are enjoying your clarinet, wherever in the world you are! Thanks for being a part of the Clarinet Mentors community.
Michelle
---
Free Training
Free Training: The 1%
(No, not politics - clarinetists!)
Some of my Clarinet Mentors Newsletter videos are focused on a particular technic, or piece of gear that can help you play better. Those are very useful, and specific. Some of them are longer lessons where I "go deeper" by sharing with you the bigger strategies that I feel really lead to our long term success as musicians.
Today's video is a "go deeper" lesson. After working with hundreds of students during my teaching career, I have noticed some clear trends among those who consistently improve, and those who struggle. Virtually all of the success habits are learnable by anyone. They don't depend on age, or some genius, in-born talent. They depend upon knowing what to do, and then consistently creating better habits to get better results. I am positive that you could ask all of the greatest clarinetists in the world, (that top 1%), how they approach the instrument, and it would be very similar to what I recommend to you in this video. (I've asked several of them, so I have borrowed from their wisdom here.)
Today's video gives you some pointers on how to structure your practise sessions differently. I give you some good plans for a more effective warm-up, and how to produce better habits every time you play. Although at first, this will require more discipline, it does lead to more freedom, because your playing will improve much faster. You also will not be "wasting" practise time, so that your efforts yield faster results.
Click here, or on the photo below to access this training: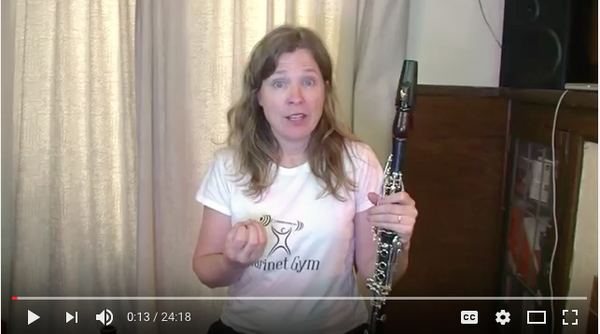 Free Training Video: [ https://youtu.be/HdAyG6P1Hyk ]
---
Michelle Recommends
ClarinetFest 2016 -The Clarinet Mentor's Roving Reporter Facebook Updates
ClarinetFest 2016, presented by the International Clarinet Association, is an annual conference that brings together clarinetists of all levels from around the world. There are several concerts, recitals, lectures, masterclasses, and incredible hands-on exhibits from the world's best clarinet and clarinet accessory manufacturers.
I will be there for 3 days taking in as many concerts as possible. I'll also be trying out as much new clarinet gear as I can, and look forward to sharing my discoveries with you. I'll be posting regular updates on Facebook at www.facebook.com/clarinetmentors. Please check there for updates Wednesday through Saturday. I haven't been very active on Facebook lately, but this will give me a chance to share some fun clarinet things with you. If you want to see more Clarinet Mentors posts in your Facebook feed, you can follow the intructions here to make it more of a priority in your Facebook newsfeed.
This year's conference is in Lawrence Kansas. I'll probably be there for the first few days. Let me know if you will be there!
Find details of ClarinetFest at: http://clarinet.org/index.php/clarinetfest/clarinetfest-2016/
---
Do You Want To Play Clarinet More Easily?
Michelle's new course: How To Play Clarinet More Easily - Better Clarinet Tone and Faster Clarinet Fingers free preview videos available now
As much as I love all of the videos and worksheets that are available for free through my newsletters and YouTube channel, I do like to be able to offer more in-depth training to those of you that want to learn more. My clarinet course, How To Play Clarinet More Easily, is designed for players with an intermediate to advanced level of clarinet skills. (If you are newer to the instrument, or basically self-taught, the Clarinet Is Easy course, below, is a great starting point to prepare you for this upcoming course.)
You can get sample some videos from these courses to see if they might be helpful to you. Read further, and please sign up to try the free preview videos.
I am happy to announce that two of the most important sections of this new course are now available. Faster Clarinet Fingers (as you may guess from the name) has all of my favourite tools and tricks to help you move your fingers around the instrument more easily and quickly. I have heard great feedback from clarinetists who have been going through this course. You can access some free preview videos here: https://www.clarinetmastery.com/pl/11972. You'll be asked to enter your email address, which is just to have the system automatically send you links to the videos.
Better Clarinet Tone covers all of the areas of clarinet playing that affect how you sound on the clarinet. Most of are inspired by listening to our favourite players, and we want to sound more like that. This set of video training will help you figure out how you can sound the way you want to sound! You can access free preview videos here: https://www.clarinetmastery.com/pl/11124. You'll be asked to enter your email address, which is just to have the system automatically send you links to the videos.
As with all of my courses, there is a 30-Day, 100% Money-Back Guarantee. My goal is to give you the very best tools to help you learn the clarinet much more easily and quickly. If these are not the right tools for you, I refund your tuition, no problem.
---
Clarinet Is Easy - Your Step-by-Step Beginner Course - Now Available! (Also enjoyed by many intermediate level players)
How To Solve Your Common Clarinet Frustrations and Play Clarinet More Easily
I firmly believe that if anyone has the "recipe" for how to play clarinet, things are really relatively easy to do. Most of our frustrations come from inadvertently learning bad habits along the way. With that in mind, I have created for you a 10-lesson comprehensive course for beginners (and self-taught intermediate players) that gives you the tools to truly learn the clarinet easily, while avoiding all of the most common frustrations that can plague us. I believe that these lessons can save you hours of grief by giving you the best practise systems that have worked for thousands of clarinetists. The lessons have great content, and are presented in a video format so that you can watch them again and again. If you would like to play with more ease and have a clear understanding of the fundamentals of clarinet playing, you can get more information on the Clarinet Is Easy course here (including some free preview videos):
Click here for the free preview videos to Clarinet Is Easy
If you are curious about this, you can try these lessons with a 100% 30-Day Money-Back Guarantee. (That means that you can try a full 5 lessons before you decide if you have received great value from the course.) If it is not the right style for you, you get your tuition refunded, no problem. I invite you to try it now! Many students have received amazing results so far from this course (and you can read their comments on the order page).
---
About Michelle Anderson
Michelle Anderson, the founder of Clarinet Mentors, is a professional clarinetist and teacher who currently lives in Vancouver BC. Her professional career spans over 30 years and she currently plays regularly with the Vancouver Opera Orchestra, the Pacific Symphonic Wind Ensemble and the West Coast Chamber Music series. She has performed with the Vancouver Symphony Orchestra, the CBC Vancouver Orchestra, the Winnipeg Symphony Orchestra, the Royal Winnipeg Ballet Touring Orchestra and many other groups. Michelle currently specializes in teaching adults to play clarinet more easily and quickly through online resources, and conducts the Vancouver Clarinet Choir. Michelle is a Backun Musical Services Artist and plays on Backun clarinets and mouthpieces.
Thanks for reading this biweekly newsletter.
---
Helping you to find success on your instrument with proven, easy-to-follow systems that are designed to help you sound good, and feel better about your playing.
---
Stay connected with news and updates!
Join our mailing list to receive the latest news and updates from our team.
Don't worry, your information will not be shared.
Subscribe